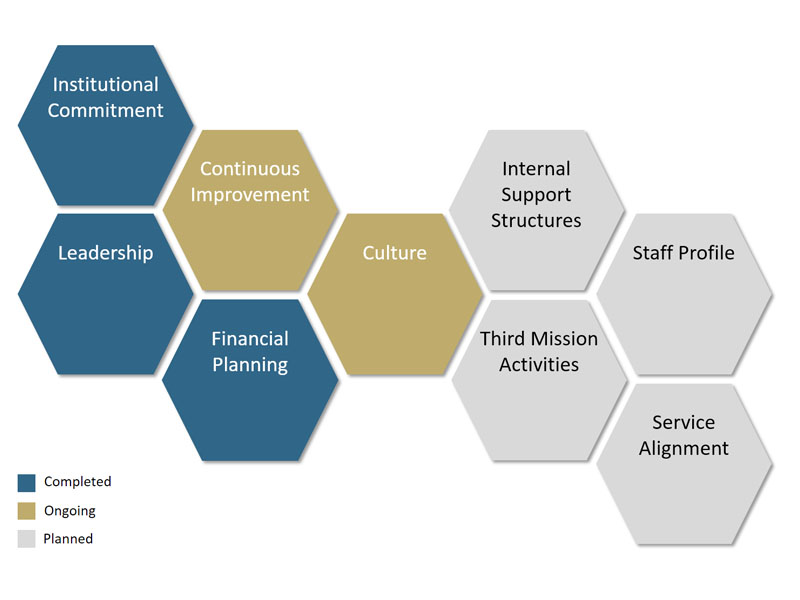 Entrepreneurial University Path Finder
.
Tool description
The Entrepreneurial University Pathfinder is a flexible framework to develop your own path towards an entrepreneurial university. The Path Finder consists of 15 hives to be filled according to your university needs and objectives in each standard of ACEEU's Entrepreneurial University accreditation. The hives can be flexibly organised and connected to design new actions, strategies and plans.
How to use it?
Optimally, the Entrepreneurial University Path Finder is used in combination with the Entrepreneurial University Canvas.
Review your analysis results from the Entrepreneurial University Canvas and identify key challenges and opportunities that need to be addressed
Design new actions, strategies and plans for each of the challenges and opportunities and place these on the respective hive
Connect the hives according to the relations between the actions (e.g. place the hives in a chronological order in which they shall be implemented)
Share the results with all those involved in the implementation of the designed actions, strategies and plans
Use colors to indicate the progress of implementation (blue: completed; gold: ongoing; grey: planned)
Download
Download Pathfinder Description (PDF) Download Pathfinder Template (PPTX)
Pictures
Following soon.